Our objective is to provide the best service possible and remove the inconveniences that you would normally experience when having body shop repairs.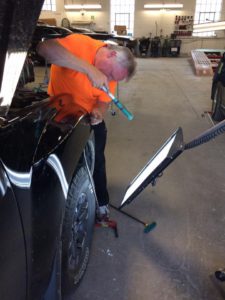 Consumer awareness is increasing in the area of paintless dent repair. It has been widely used over the past 2 decades by car dealers, rental agencies and auctions to prepare vehicles for resale. Yet very few consumers are aware that the process exists.
The PDR process is very effective for the following situations, from small to large dents(non-collision), generally 1990 model year and newer vehicles, the paint has not been broken or cracked and the dent is not near or on the edge of a panel. With The Okanagan Dent Guy, our technician has over 35 years of experience in the automotive field. So we know what customer satisfaction is all about.
The Okanagan Dent Guy's objective is to offer outstanding service, value and most of all customer satisfaction. To do so we offer services to Salmon Arm, Enderby, Armstrong, Lumby, Vernon, Coldstream, Winfield, Kelowna, Westbank, Peachland.